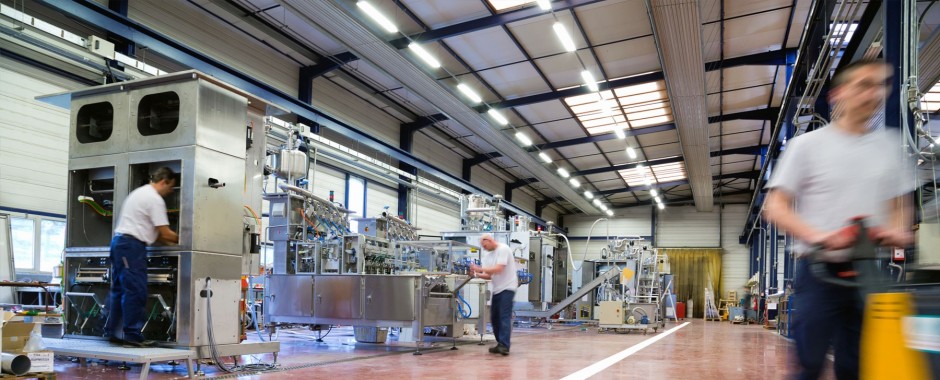 IT IS NOT BY CHANCE THAT FOR MORE THAN 50 YEARS, OUR MACHINES FILL MILLIONS OF STAND-UP POUCHES, EACH DAY, WORLDWIDE.
THIS IS DUE TO THE ATTENTION WE PAY TO THEIR DESIGN AND MANUFACTURING.
Located in SAINT GERMAIN AU MONT D'OR in the region of Rhônes-Alpes in France, the company was originally established through the invention of the sewing machine in 1830 and now is specialised in the design and manufacturing of flexible packaging machines for liquid, pasty and viscous products (milk packages, bleach cartons, fruit juice, medical bags, etc.).
Today,THIMONNIER is a world leader in design and manufacturing of machines allowing to fill flexible bags, DOYPACK® pouches and rigid shells. The company has more than 80 employees in its staff and a turnover with a double-digit growth over the past 5 years.
Our know-how, based on technical skills of sealing technologies :
– Impulse
– Thermal
– High Frequency
– Ultrasonic welding
allows us to provide the best solution for all your packaging projects.
A Design & Engineering department, consisting of 15 engineers and technicians, is also able to offer you custom-made solutions fully adapted to your own specifications.
A versatile and multilingual team of 10 engineers and technicians in the Customer Services department providing a high quality, effective and responsive service worldwide.
A site covering 25 000 m² with production facilities covering more than 9 000 m².
Eager to adapt to a market in constant evolution, THIMONNIER proposes its experience in a broad range of industries :
- Food industry (liquid and viscous products, with or without pieces)
- Detergents (liquid soap, liquid bleach)
- Medical industry (intravenous solutions in IV bags, prosthesis, paramedical products)
- Cosmetics
- Automobile accessories : (sun visor, carpets)
- Plastic industry (stationery, leather goods, childcare, clothing)
- Packaging (thermoformed shells, blisters)
- Sealing machines for closing large capacity bags

Our Research Department, composed of 15 engineers and technicians working with the latest CAD/CAM technologies, can also offer you innovative solutions to your specifications.