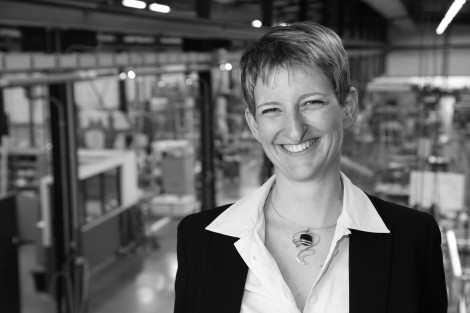 SYLVIE GUINARD HOLDS DEGREES IN TWO FIELDS, NAMELY ENGINEERING AND BUSINESS ADMINISTRATION:
2002: INTERNATIONAL MBA FROM EM-LYON BUSINESS SCHOOL. www.emlyonforever.com
1991: DEGREE IN MECHANICAL ENGINEERING FROM THE ESTACA (SCHOOL OF AERONAUTICS AND AUTOMOBILE CONSTRUCTION),
Sylvie Guinard always dreamed of becoming an astronaut and remains passionate about all things to do with space and aeronautics. She ultimately chose the technical route and, with the benefit of several years of experience in the mechanical engineering field. Then, she decided to pursue another dream, perhaps somewhat less spectacular, but one which nonetheless inspires her on a daily basis, namely by taking up the reins at the age of 36 of the family-owned firm, THIMONNIER.
AWARDS
Septembre 2017: Medal of Knight of the French Legion of Honor
December 2016 : "Femmes de l'Economie" CEO National Gold award
March 2016 : Innovation Award "Les coups de coeur de l'Eco"
September 2015 : Export regional award handed by "PME Bougeons-nous - RMC - BFMTV"
May 2014 : Medal of Knight of the National Order of Merit
January 2014 : Business manager of the year Award by " Le Progrès " and the CGPME Rhône
December 2013 : National Industry Trophy handed by the press gallery Women's Awards
June 2013 : Finances Trophy " Plan PME" (Small and Medium Sized Companies)
April 2011 : Business Transfer Trophy, co-organized by the newspaper " Le Progrès"
CAREER
2013: Acquires the company's capital
2009: Appointed Chairwoman & CEO of Thimonnier
2002: Joins Thimonnier and is successively appointed to the positions of Project Manager, Technical Director and Deputy Managing Director & CFO
2001: Validation Manager for the Light range at Renault Industrial Vehicles
1996: Design Engineer and Project Manager in the fields of space, defence, offshore and railways at Techlam